We Awarded as the Best Selenium Training institute in Bangalore with 100% Jobs for freshers and working professional
Besant Technologies offers Best Selenium Training Courses in Marathahalli, BTM Layout, Rajajinagar,Kalyan Nagar,  Jaya Nagar & Electronic City in Bangalore. We teach students what the IT industry deems important- starting from basic to advanced concepts, that too in a real-time environment.
Selenium Training in Bnagalore
Selenium suite of tools is the best in the market for web app testing. Each of the different tools in the suite supports test automation differently. And that is why it may be considered a comprehensive suite. If you want to gain expertise over the tools in the suite, then receiving Selenium training in Bangalore is indispensable. When you take Selenium Classes, you become an asset for those companies that are on a constant lookout for selenium trained professionals.
For the best selenium training in Bangalore, you can blindly trust Besant Technologies. Besant can pave the way for success for you.
Our Training Methodology :- Our Selenium Course Syllabus is designed like each and every topic will contain Practical Sessions. We Train you Each day 1 hour theory and 2 hours Practical Session  on Selenium Concepts like WebDriver, IDE & Frameworks in our all Bangalore Branches
What is Selenium?
Web browsers are used to test web applications. The automation of the tests undertaken on web browsers is done with the help of this open source tool called selenium. Mobile applications or desktop software applications can, however, not be tested with selenium. But one thing that you need to remember here is that selenium has far more pros than cons. And that is probably the reason why the entire world is adopting it with wide open arms. If you too want to be a part of the huge selenium community, then receiving selenium training from a good selenium training institute in Bangalore would be the best bet. Although there are many institutes that offer selenium training, the amount of diligence with which training is imparted in Besant is simply matchless.
Why Selenium?
It's very common to come across an institute offering Selenium courses in Bangalore. But have you ever wondered why a selenium course is so popular these days? Well, there are hundreds of reasons behind its ever-growing popularity, but the most important ones have been dished out below. Check out-
You don't need to pay any licensing fee while installing selenium. Why? Because selenium is an open source tool.
Java, .Net, Perl, PHP, Ruby, C#, Python etc. are the programming languages in which selenium test scripts can be written.
You can carry out the tests in operating systems like Linux, Mac or Windows. So, the compatibility factor is high in the case of selenium.
Browsers like Mozilla Firefox, Google Chrome, Internet Explorer, Opera, and Safari can be used for the tests.
Integration of selenium with tools like JUnit and TestNG is pretty much possible, because of which generation of reports and management of test cases become easy.
Continuous Testing can be achieved when selenium is integrated with Maven, Jenkins, and Docker.
Selenium jobs are high paying.
How we, at Besant Technologies, help you?
Selenium training in Bangalore at Besant Technologies can simply set your career.
Our incessant efforts in comprehending the possibilities of selenium in the world of IT have rendered us competent in helping interested people learn this skill set. Our trainers are some of the most knowledgeable in the industry with profound empirical knowledge and an enviable proficiency in theories. By following a student-centric approach of teaching, they have been ensuring impeccable learning outcomes in students. What makes us more popular as an IT training institute are our courses, which are not just easy to grab but also extremely relevant as far as industry needs and standards are concerned. We endeavor to keep you abreast of all the latest IT innovations and make sure every bit of information we pass on makes sense to you.
What more? We offer amazing placement guidance and help you clinch your dream selenium job, almost effortlessly.
Do you need training in selenium?
One of the most popular tools that have replaced manual testing is selenium. And the scope for a career in the field of testing grows hundredfold when you take selenium coaching classes. That is why people interested in building a career in IT look at selenium training so highly. If you want certification for your knowledge of selenium, then taking selenium training Bangalore from a good institute is a must. Besant can be a fair choice if you are serious about making a selenium job your source of livelihood.
Job opportunities for selenium experts
Once you are done with the selenium certification course, you can be confident of getting a high-paying job in the field of IT. Interestingly, people with great command of selenium become valuable assets for IT companies that require testing. Some of the most common designations you can take up being a selenium expert include Senior Test Engineer, QA Engineer, Automation Test Lead, Selenium Automation Analyst, and Quality Engineer. Get Enroll yourself for Selenium Training in Bangalore and get placed in Top MNC.
Best Selenium Training in Bangalore at Besant technologies
Besant Technologies boasts of being the Best selenium training institute in Bangalore. And the syllabus for this course has been broken down below (not in any specific order) for your convenience-
Download PDFSyllabus
Video ReviewCourse Fees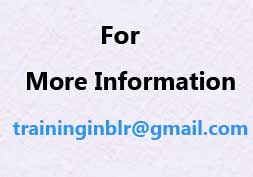 | | |
| --- | --- |
| Course Name | Selenium |
| Category | Automation Testing Tool |
| Venue | Besant Technologies |
| Official URL | Selenium Training |
| Demo Classes | At Your Convenience |
| Training Methodology | 25% Theory & 75% Practical |
| Course Duration | 35-40 Hours |
| Class Availability | Weekdays & Weekends |
| For Demo Class | Email ID – besanttech@gmail.com |
Selenium Training Syllabus
Total Duration: 45:00:00
Course Objective
Understand Oops /java concepts
Understand Selenium IDE, RC
Understand Selenium WebDriver tool in depth, it's features & components
Building a new Test Framework by using Web Driver, Test NG, and Maven
Selenium Introduction (Duration: 03:00:00)
Selenium Introduction
What is Selenium and Why Selenium
Use of Automation Testing?
Explanation of Selenium and its advantages
Differences between Selenium and QTP
Selenium Components
Introduction of selenium Components
OOPs concepts and Core Java Introduction (Duration: 10:00:00)
OOPs concepts
Setup Java environment – Download JDK and Setup eclipse
Java programming concepts
Class, Object, variables, methods, Packages
Conditions and loops
Access and non-access modifiers
Advanced Java Programming
Interfaces, Inheritance
Collections, Exceptions
Selenium IDE and RC Introduction (Duration: 04:00:00)
Installing Selenium IDE
"Selenese" – Selenium Commands
Actions, Asserts, Assessors.
Developing Test Cases & Test Suites with Selenium-IDE
Introduction to Selenium RC
Installations (Duration: 02:00:00)
eclipse-Oxygen
JDK 1.8
Firefox 47.0.1, firebug and firepath
Set up TestNG, Maven and Selenium (2.53.1 &3.0 +) for eclipse
Selenium WebDriver 2.0 and 3.0 Introduction (Duration: 10:00:00)
Selenium WebDriver Introduction
WebDriver Vs RC
Download and Configure WebDriver with Eclipse
Simple Testcase
Open and Close Browser
Cross Browser Testing – Firefox, IE, Chrome, Edge.
UI elements Locators.
Identifying WebElement using id, name, link text, class, XPath, CSS
Handling various WebElement using WebDriver
Handling Mouse movements and Keyboard Events
Gecko-Driver
File uploading using Auto-It and Robot.
Testing Framework and Tools (Duration: 05:00:00)
Introduction of a Testing framework
Types of frameworks
Tools for developing Test Framework
TestNG introduction and Configuration with eclipse
TestNG Annotations and Data Providers
Creating Test Suit with TestNG
Develop Hybrid Framework (Duration: 06:00:00)
Developing Hybrid Framework for Web Application using WebDriver /TestNG and Maven
Use external Data for Testing (Excel sheet, XML files, Property file)
Reading and understanding reports
Screenshots of failed Test case
Configuration Management (Duration: 04:00:00)
Jenkins Installation
Maven Installation
Dependencies and configure Maven Project
Integrate Maven projects in Jenkins.
Call us 9108126341/9108126342 for free Demo Session on Selenium Training in Bangalore BTM & Marathahalli get 1 hour basic knowledge on Selenium Topics.
For Selenium Materials – Download Now
You can find the Latest Selenium Interview Questions