Besant Technologies offers Best Hadoop & Big Data Training Courses in Marathahalli, BTM Layout, Rajajinagar ,Kalyan Nagar, Jaya Nagar & Electronic City in Bangalore. We teach students everything that is important- starting from basic to advanced concepts, that too in a real-time environment. Get Certification & Placement Oriented Big Data Hadoop Training in Bangalore from Real time industry Experts.
Hadoop & Big Data Training  in Bangalore
While Hadoop is a technology, Big Data is the name tech experts have given to the huge amount of data we are producing every minute or every second. This amount is so large, that big data is no more a concept; it's an area of study. If you want to up your value in the technological ecosystem and the field of employment, then doing Hadoop & Big Data Classes is indispensable. Bangalore is a big and booming city, as is the technological hub of the country. So, can there be a better place for you to take a Hadoop & Big Data course? Of course not! So, what makes you wait? Go for Hadoop & Big Data training in Bangalore right away.
But do you know which institute offers the most valuable training? It's Besant technologies. Besant boasts of being the most revered institute dealing in best Hadoop & Big Data training in Bangalore.
What is Hadoop & Big Data?
A huge volume of data has already been produced and is being produced at a never-before rate. So, big data refers to this huge amount of data that we have at our disposal in this digital age. Hadoop is nothing but a technology, rather a software framework to run applications and store data on commodity hardware clusters.  A lot of people are taking Hadoop & Big Data Training in Bangalore for bettering their career prospects. But if you don't want to settle for anything less than cent percent serious training, then enrolling with Besant Technologies is highly advisable. Besant has created a niche for itself and is a renowned Hadoop & Big Data training institute in Bangalore.
Why Hadoop & Big Data?
Choose Besant Technologies offering Hadoop & Big Data courses in Bangalore, and become a big data expert. If you want to set your career graph on an upward move, receiving Hadoop & big data training is of the utmost importance. While understanding the significance and concept of big data cannot be overemphasized, learning the nitty-gritty involved in Hadoop is also equally important. After all, without the right software, you won't be able to handle big data. Here are some other reasons why you should learn Hadoop-
Career opportunities that Hadoop brings are better and numerous.
The big data market is growing exponentially. To match pace with it, you need to learn Hadoop.
The number of jobs available currently is huge, which is expected to grow over the next few years.
Hadoop jobs are extremely high paying.
The number of companies using Hadoop for big data handling is growing by the day.
How we, at Besant Technologies, help you?
Hadoop & Big Data training Bangalore at Besant Technologies is what you need to see your future getting brighter.
Our relentless efforts in visualizing the possibilities of Hadoop & Big Data in the IT arena have enabled us to be of help to those who really wish to learn this skill set. Our trainers are some of the best in the field with unmatched practical knowledge in addition to a strong foothold in theories. By following a student-centric approach of imparting knowledge, they have been ensuring positive learning outcomes among students. What makes us more efficient as an IT training institute are our courses, which are not just easy to understand but also pertinent as far as industry needs and standards are concerned. We try to keep you aware of all the latest IT innovations and make sure everything you receive from us helps you better in the IT field.
What more? We offer competent guidance for placement and help you get your dream Hadoop & Big Data, with no extra efforts.
Do you need training in Hadoop & Big Data?
Of course, you need Hadoop & Big Data coaching classes for a great tech career, because, without proper certification of your skills, no company is going to hire you. Since Besant Technologies has a name in imparting good Hadoop & Big Data training in Bangalore, you need not look further for a training institute. Besant can provide you everything a good training center may be expected to provide.
Job opportunities for Hadoop & Big Data experts
From retailers and financial firms to agriculture, healthcare, media, sports and energy, different business industries have lately begun to rein in Hadoop professionals. Having completed a Hadoop & Big Data certification course, an individual can apply for a lot of tech job positions such as Data Scientist, Hadoop Administrator, Hadoop Developer, Data Analyst, Big Data Architect etc. Enroll today for Hadoop Course in Bangalore at any one of our Besant technologies Branches and get placed as Hadoop developer in Top MNC with good Salary.
Hadoop & Big Data Training in Bangalore
Besant Technologies boasts of being the Best Data Science training institute in Bangalore. And the syllabus for this course has been broken down below (not in any specific order) for your convenience-
Download PDFSyllabus
Video ReviewCourse Fees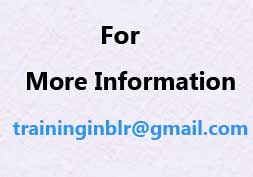 | | |
| --- | --- |
| Course Name | Hadoop Developer & Admin |
| Category | Open-Source Software Framework (DWH) |
| Venue | Besant Technologies |
| Official URL | Hadoop Training |
| Demo Classes | At Your Convenience |
| Training Methodology | 20% Theory & 80% Practical |
| Course Duration | 40 – 45 Hours |
| Class Availability | Weekdays & Weekends |
| For Demo Class | Email ID – besanttech@gmail.com |
Hadoop Training Syllabus
Introduction to Hadoop
Hadoop Distributed File System
Hadoop Architecture
MapReduce & HDFS
Hadoop Eco Systems
Introduction to Pig
Introduction to Hive
Introduction to HBase
Other ecosystem Map
Hadoop Developer
Moving the Data into Hadoop
Moving The Data out from Hadoop
Reading and Writing the files in HDFS using java program
The Hadoop Java API for MapReduce

Mapper Class
Reducer Class
Driver Class

Writing Basic MapReduce Program In Java
Understanding the MapReduce Internal Components
HBase MapReduce Program
Hive Overview
Working with Hive
Pig Overview
Working with Pig
Sqoop Overview
Moving the Data from RDBMS to Hadoop
Moving the Data from RDBMS to HBase
Moving the Data from RDBMS to Hive
Flume Overview
Moving The Data from Web server Into Hadoop
Real Time Example in Hadoop
Apache Log viewer Analysis
Market Basket Algorithms
Big Data Overview
Introduction In Hadoop and Hadoop Related Eco System.
Choosing Hardware For Hadoop Cluster Nodes
Apache Hadoop Installation

Standalone Mode
Pseudo-Distributed Mode
Fully Distributed Mode

Installing Hadoop Eco System and Integrate With Hadoop

Zookeeper Installation
HBase Installation
Hive Installation
Pig Installation
Sqoop Installation
Installing Mahout

Horton Works Installation
Cloudera Installation
Hadoop Commands usage
Import the data in HDFS
Sample Hadoop Examples (Word count program and Population problem)
Monitoring The Hadoop Cluster

Monitoring Hadoop Cluster with Ganglia
Monitoring Hadoop Cluster with Nagios
Monitoring Hadoop Cluster with JMX

Hadoop Configuration Management Tool
Hadoop Benchmarking
Call us 9108126341/9108126342 for free Demo Session on Hadoop Training in Bangalore BTM & Marathahalli get 1 hour basic knowledge on Hadoop Topics.
For Hadoop Materials – Download Now
You can find the Latest Hadoop Interview Questions