CCNA is a certification course offered by Cisco, a multinational technology conglomerate of an American base with its headquarters located in California. Being one of the five levels of career certification offered by Cisco, CCNA enjoys unprecedented popularity among technology aficionados.  And that is probably the reason why CCNA classes are so sought after in cities like Bangalore.
Now, stop pondering and go for CCNA training in Bangalore and add an extra feather on your hat. But being careful while choosing an institute is advisable. After all, there should be value for every penny you spend on the course. The best CCNA training in Bangalore is provided by only certain selected institutes, out of which Besant Technologies stand out.
What is CCNA?
Cisco Certified Network Associate, abbreviated as CCNA is a certification course offered by Cisco, a trendsetting company in the field of networking.
It offers a total of five accreditation levels. CCNA is the second in the series, a level below CCNP (Cisco Certified Network Professional) and above Cisco Certified Entry Networking Technician (CCENT).
There is so much to learn in this area of study that you can't ignore it. So, get yourself enrolled with a CCNA training institute in Bangalore at the earliest. For satisfactory results, opt for Besant technologies, a pioneering institute offering training in CCNA and other courses.
Why CCNA?
There are scores of reasons why you should take up one of the many CCNA courses in Bangalore, some of which have been dished out here-
It is CISCO, the global networking leader that certifies you.
You get a fat paycheck.
The CISCO learning network, a learning community of CCNA certified people helps you learn from your peers
It improves your market value as an IT practitioner
How we, at Besant Technologies, help you?
CCNA training Bangalore at Besant Technologies can give your career a power push. Besides, our unremitting endeavors in understanding the scopes of CCNA in the realm of information technology have made us capable of helping aspiring individuals take flight in their career by helping them develop the right skills. Our mentors are the absolute most capable in the business with significant field knowledge as well as observational skills. By following a student-centric approach of imparting education, they have been guaranteeing successful learning outcomes to all their students. What makes us more competent and desirable as an IT training institute, are our courses that are not just easy to follow but also effective as far as their applicability in the business is concerned. We attempt to keep you abreast of the most recent software advancements and ensure that the knowledge passed on to you takes you a long way professionally.
We also offer career counseling to enable you to secure a coveted CCNA job of your choice. All you need is to enroll in our CCNA coaching classes.
Do you need training in CCNA?
CCNA certification basically acknowledges that the trained individual is proficient in installing, configuring, setting up, troubleshooting and handling a computer network that's switched and routed in nature. If that sounds great to you, there is no reason why you shouldn't opt for CCNA training Bangalore.
Job opportunities for CCNA experts
After you take a CCNA certification course, your productive horizons widen. You may be hired as an IT professional in fields such as wireless networking, collaboration, voice, data centers, security, video and the like.
CCNA Training in Bangalore
Besant Technologies boasts of being the Best CCNA training institute in Bangalore. And the syllabus for this course has been broken down below (not in any specific order) for your convenience-
Download PDFSyllabus
Video ReviewCourse Fees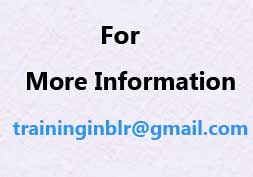 Course Overview
| | |
| --- | --- |
| Course Name | CCNA |
| Category | Networking |
| Venue | Besant Technologies |
| Official URL | CCNA Training |
| Demo Classes | At Your Convenience |
| Training Methodology | 30% Theory & 70% Practical |
| Course Duration | 50-55 Hours |
| Class Availability | Weekdays & Weekends |
| For Demo Class | Email ID – besanttech@gmail.com |
CCNA Course Syllabus
Networking concepts
Components of a network – router, switch, hub, bridge etc
Types of Network – LAN, MAN, WAN, VPN, PAN & Content Network
Defining Network requirements – NIC- Ethernet (CSMA/CD)
10/100/1000 Mbps DUPLEX (Half/Full/Auto) – Connecting Media – Coax.
10 base 2T – UTP/STP – CAT 1/2/3..
Straight through/cross crimping (only details no practical)
Fiber optics – Single/Multimedia
100 Base-TX/FX etc – wireless communication.
Ethernet cabling Standard.
Connecting Devices
Repeater – Hub – Switch – Bridge – Topology – Bus/Star/Ring
OSI – Model
7 Layers – Communication between the Layers (Encapsulation & De-encapsulation) – PDU.
Layer 2 – MAC/LLC – 802.3/802.2 (SAP/SNAP) /Ethernet II – Frames
Broadcast/Collision domain – a point of -Hub/Switch/Router
L4 – 3way handshake – windowing – and about – Connectionless
Packet size [64B (mini) to 1518B (Max)]
TCP/IP Model & Ipv4 Addressing
All Layers of TCP/IP Compound with – OS
Application Layer – TFTP/FTP/SMTP/TELNET/SNMP/DNS
Transport Layer – TCP/UDP – TCP Segment Format
3-way handshake/windowing – UDP segment Format
Internet Layer
IP datagram format – Protocol No. – TCP 6 – UDP 17
ICMP – ARP – RARP
Introduction to IP addressing – Class A/B/C/D/E
Private IP address – First OCTET range etc.
Subnetting
Default Subnet Mask
Class C Subnetting & Practice no. given
Class B Subnetting & problems
Class A Subnetting & problems
Introduction to IPV6
Introduction
Host Address Assignment
Unicast, Multicast, and other Special ipV6 Addresses
Configuring ipV6 Routing and Routing Protocols
Translations between ipV4 and ipV6
Summary
Basic of Router & Configuration
Selection of Router & Cabling a Route

When Router used – LAN with WAN connect – to connect networks of different IP
The different interface of Router – AUI /S0/S1/AUX – console / BRI etc.
Cables used in different interfaces/purpose of interfaces
WAN interface cable – EIA/TIA – 232/449/530 – V.35 – X.21
Different CISCO series – modular/fixed – 10mbps/100 etc
Straight through between DTE & DCE
Different modes of operation & basic commands
Internal Components:

ROM – POST – BSL – ROM-MONITOR PRG – MINI IOS
The different interface of Router – AUI /S0/S1/AUX – console / BRI etc.
DRAM -Running Config
NVRAM – Startup Config
Flash MEM – IOS

Different Modes:

ROM Monitor – Reboot Mode – Setup – Exec Model

Exec Mode

User -Privilege – Global – Sub-configuration mode
Syntax/command to switch between modes
Assigning the IP address to -E0-S0-S1
Enabling/disabling – console/privilege / by password
Mold – command
Show Config / start / run / version / flash

Basic commands practice

Changing between modes – (user-privilege- Global-etc)
IP address configuration-E0-S0-S1
Password – enabling – encrypting it
Practice – motd – show commands – editing commands
Assigning hostname (for Router)

Advanced Commands

Register value – X2102 – boot field value/purpose ROM monitor made – password breaking 8th/6th/13th bit of register value importance
Boot system flash/network/ROM – config-register (Changing register value) – etc command purpose Booting sequence – Backup & Recovery – CDP
Practice an above command as well as following
Telnet – [ctrl+shift+6]x – disconnect – sh users /Sessions
Clear lines resume – [hostname resolving in telnet domain Enabling/disabling etc – no practical for this alone]
Overview of Cisco SDM (Security Device Manager)
IP Routing
IP Routing, Static Routing & Default Routing

IP routing – static routing – default- dynamic routing
Providing clock rate to up the link after identifying DCE by "Sh controllers" command
Commands/syntax – Static/default routing

Static Routing & Default Routing

Practical-session for Static & default routing

Dynamic Routing and RIP

Dynamic Routing – IGP & EGP.
IGP – RIP-OSPF – EGRP – EIGRP
Classes of Routing Protocol – Distance vector – Link State – Balanced hybrid
Role of Routing Protocol – builds/updates/selects & Routes the packet
Soluting for Routing loops – Max. loop count – split horizon – Route poison Reverse – Hold down Timer
Features of RIP – distance vector algorithm – RIP V1/V2 – load sharing – metric (depends – loop count)
Metric value depends – loop count – Ticks – delay – Reliability – cost – MTU – Bandwidth
Command – Router RIP Network
Sh IP route
Timer value for RIP– Update/Invalid/ hold down/flush Timer

RIP

Dynamic Routing – RIP Practical

Dynamic Routing EIGRP & OSPF

Limitations of distance vector algorithm
Features of EIGRP and its operations
Configuring EIGRP – "Auto-redistribution"
Verify and troubleshooting EIGRP
Features of OSPF and its operation
Configuring single area OSPF
Verify and troubleshoot OSPF

Access List

Purpose/advantage of Access-list
IP [-for a host – for a network/sub network].
Std IP access-list – wild card calculation
Extd IP access list
Switch port ACL,.
Step involved in creating the access list
Applying access list at the interface – (inbound/outbound)
Named access-list for IP
Access-list in Telnet session

IP standard Access List

Practical on
IP Std access-list

IP Extended Access List

IP Extd access-list named access lists

NAT

Implement, Verify & Troubleshoot NAT

Explain the Basic Operation Of NAT
Using (including CLI/SDM)
Practicals on Static NAT, Dynamic NAT and PAT
Troubleshoot NAT issues

WAN Technologies

WAN Technologies- Leased Line

Leased line
P to P communication
HDLC & PPP protocol-features
Enabling HDLC & PPP

PPP Link

PPP layer & its explanation/role
PAP/CHAP role
Configuring PAP/CHAP using commands

VPN

Describe VPN technology
Importance Of VPN
Benefits & Role
Impact & Components

Frame-Relay

Packet Switched Network
Virtual circuit – DLCI – Access-link – CRI – FECN – BECN – LMI
Enabling Frame-relay
Inverse ARP
Configuring frame-relay for
Mesh Network
Star Network
Combination of above two

Switching

Switching Operation and Configuration

Function –add-learning / Forward-filters the Frame / loop avoidance
Redundant path and its problems
Spanning Tree Protocol – purpose – its different state (blocking/listening/learning/forwarding)
Modes of operation of switch/Bridge
Port duplexing
Switch & hub – half duplex
Switch & Server – full duplex
CISCO catalyst switch 1912 & 1924 interface details
M/K/I modes
Basic and advanced commands
Enabling & configuring MAC address table

VLAN Configuration

VLAN – ISL – Trunking
Enabling Trunking
Assigning VLAN No. & name
Configuring ports to a specific VLAN
VTP purpose
VTP domain
VTP modes of operation
Switching Technologies (including VTP, RSTP, PVSTP, 802.1q)
Implement Basic Switch Security (including Port Security, Trunk access .etc )

Wireless LAN

Wireless Intro & Operation

Standards associated with Wireless Media (including WI-FI Alliance, ITU/FCC)
Ad-hoc mode, infrastructure mode
SSID, BSS, ESS
Basic Parameters to configure on a Wireless Network
Wireless Security Feature's (WEP, WPA 1 / 2 )
Implementing Wireless Networks
For CCNA Materials – Download Now
You can find the Latest CCNA Interview Questions