Data Science Training in Chennai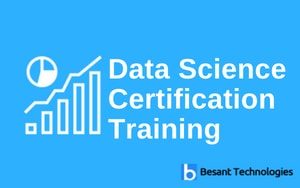 With our Data Science Training in Chennai, you'll learn concepts in expert level with practical manner. Learn how to use data science from beginner level to advanced techniques which are taught by experienced working professionals.  Learn Data Science Training Courses in Chennai with Certified Trainers. Get Practical Knowledge on Data Science Concepts like Statistics, Machine Learning, AI, Deep learning and Algorithms from this Hand-on 50 hours Course.  We teach you Data Science with Python/R/SAS/Excel using real-time Projects.
Data Science Course Training in Chennai
The IT industry is booming and technological advancements like Artificial Intelligence, Cloud, Mobile applications, and the internet is moving towards an ever-growing upward graph. Every industry and organization today have high demands for software development skills.
Data Science Training in Chennai which includes Python, R, SAS, and excel is the most popular course among all IT aspirants today.  If you wish to master the skills in data science and have a flourishing career, it is ideal to step into Besant Technologies which is centrally located for easy access in the Velachery, OMR, Tambaram, Porur, Anna Nagar, T.Nagar, Maraimalai Nagar, Adyar, Siruseri, and thiruvanmiyur of Chennai.
Why is Besant Technologies the best choice to pursue a career in the IT world?
We, at Besant technologies, help the aspirants to kick-start a career in data science. Our specially-designed curriculum according to the needs of the industry, extensive hands-on live projects, and mentorship are the key highlights of our course which make us one of the most reputed and top-rated data sciences institutes in Chennai for Data Science Training in Chennai. Click Here–> For Data Science online Training
About Data Science Training in Chennai
The data science course is an extremely popular field in the study of the IT world. The data science combines various software applications such as python programming, SAS, and excel programs. The data scientist makes use of artificial intelligence applications for the development and advanced modeling of the Data Science Training in Chennai.
Data Science Training in Chennai combines the expertise in various disciplines and the IT world enthusiasts can easily opt for the data science course. The aspirants can be from science, math, computer science or even statistical background.
Data science course in Chennai – Velachery, OMR, Tambaram
Besant technologies offers you the best Data Science Training in Chennai. The course is structured in such a way that even a person with no programming background will be eligible for the course and in no time they would be a master in the field of .
The demand for data scientists has increased over time and so has the employment opportunities for data scientists. There is a lot of scopes for people to enter into this growing field. Skilled data scientists who can work on SAS, Python, and R have been recruited by big multinational companies.
Besant technologies have a team of experts from the industry to impart training to its students. The training modules are theoretical as well as practical based. We not only offer classroom training but live projects are worked upon under the mentorship of the expert faculty to provide a thorough Data Science Training in Chennai to all the students. Not only the students are trained but 100% placement assistance is provided to make sure that they are flourishing in their chosen field as a data scientist.
About the data science course trainers and course curriculum at Besant Technologies
The faculty members at Besant technologies are experts from the IT industry. They possess up-to-date knowledge of the technology prevailing in the market. Our trainers believe in quality learning of Data Science Training in Chennai.
The objectives of the data science curriculum are:
It aims to provide an in-depth knowledge of the Data Science Training in Chennai and the various tools and techniques used in the technology.
Ensure that each student should be able to successfully apply theoretical concepts practically. Hence, practical based real-life projects are an integral part of our curriculum.
Data Science Certifications Provided at Besant Technologies
After the successful completion of the data science course, all the students are awarded a certificate which is globally accredited. All reputed companies around the globe recognize the certificate provided by Besant Technologies. The Data Science Proficiency certificate holders today are working in leading job positions around the globe.
Data Science Course Training in Chennai Placements
We provide the best curriculum in India when it comes to Data Science Training in Chennai. We not only train you but our 100% placement services assure that you get full assistance and support to get a lucrative position in the IT industry.
During our Data Science Training in Chennai sessions, various workshops are undertaken to polish your presentation skills and knowledge to help you get ready to crack the interview. We hold a record of more than 2000 students getting placed every year successfully in good positions in the IT world after the completion of the Data science course at Besant Technologies.
Data Science Course in Chennai Syllabus
Introduction to R
What is R?
Why R?
Installing R
R environment
How to get help in R
R Studio Overview
Understanding R data structure
Variables in R
Scalars
Vectors
Matrices
List
Data frames
Cbind, Rbind, attach and detach functions in R
Factors
Getting a subset of Data
Missing values
Converting between vector types
Importing data
Reading Tabular Data files
Reading CSV files
Importing data from excel
Loading and storing data with clipboard
Accessing database
Saving in R data
Loading R data objects
Writing data to file
Writing text and output from analyses to file
Manipulating Data
Selecting rows/observations
Rounding Number
Creating string from variable
Search and Replace a string or Number
Selecting columns/fields
Merging data
Relabeling the column names
Data sorting
Data aggregation
Finding and removing duplicate records
Using functions in R
Apply Function Family
Commonly used Mathematical Functions
Commonly used Summary Functions
Commonly used String Functions
User defined functions
local and global variable
Working with dates
R Programming
While loop
If loop
For loop
Arithmetic operations
Charts and Plots
Box plot
Histogram
Pie graph
Line chart
Scatterplot
Developing graphs
Cover all the current trending packages for Graphs
Machine Learning Algorithm:
Sentiment analysis with Machine learning
C 5.0
Support vector Machines
K Means
Random Forest
Naïve Bayes algorithm
Statistics:
Correlation
Linear Regression
Non Linear Regression
Predictive time series forecasting
K means clustering
P value
Find outlier
Neural Network
Error Measure
Leading Topics:
Overture of R Shiny
What is Hadoop
Integration of Hadoop in R
Data Mining using R
Clinical research preface in R
API in R (Twitter and Facebook)
Word Cloud in R
DataScience Training Reviews
Besant Technologies Reviews given by our students already completed the training with us. Please give your feedback as well if you are a student.
Training in Other Cities